Vintage airport the perfect location for an anniversary gala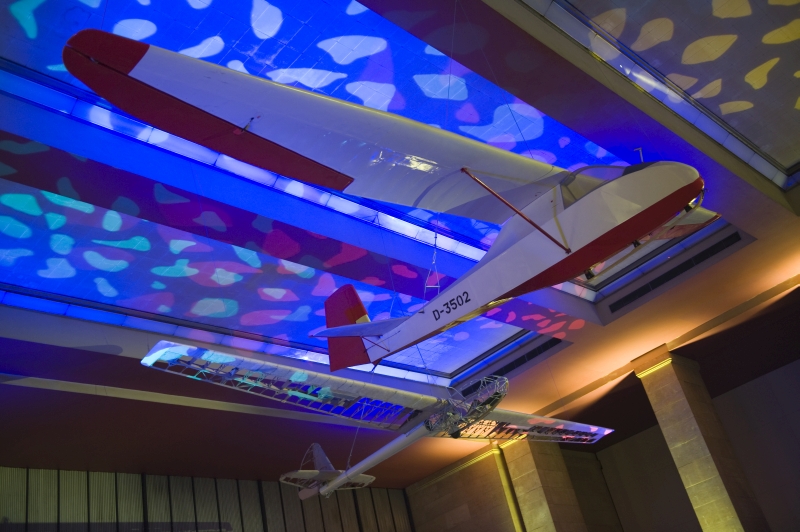 Our challenge
RWE Supply & Trading GmbH, one of Europe's leading energy trading organizations, hosted an evening event as part of EAGC, the annual two-day international gas conference. The client asked us to come up with a concept for the gala event, then oversee every aspect of its implementation. Quite a challenge: the guests included five hundred of the most important figures in Europe's energy trading business. We were also asked to lay on a stylish event at the end of the first day, where guests could relax and network in a historic atmosphere redolent of Berlin past and present.
Our solution
Our choice of venue drew on the unique charm of the German capital. The historic Tempelhof airport, which finally closed its doors in 2009, was a key location during the Berlin blockade of 1948-49, with aircraft landing almost one-a-minute to bring essential supplies to blockaded West Berlin. For the city, the airport and the Douglas DC3 became symbols of survival: Berliners called the plane the 'raisin bomber', named after the raisins which pilots threw to children as they came in to land at Tempelhof.
The event saw the grand old airport transformed into a networking space, featuring gala tables, a lounge and a bar. The luggage carousel was integrated into the lounge area, decorated by the inspiranten team in keeping with the overall theme. Food stalls serving typical Berlin fare encouraged guests to wander and explore.
Entertainment was provided by the Berlin Capital Dance Orchestra, an old-style dance ensemble whose vintage tunes lent swing and glamour to the occasion.  David Canisius, the orchestra's artistic director, served as the evening's moderator, charming guests with his witty repartee.
For international guests, another popular feature were the exclusive guided tours through parts of the former airport normally closed to the public. Participants could take a tour of Tempelhof's air raid shelters, view an authentic 'raisin bomber' on the tarmac, or take a stroll through the former officers' lounge.
Client: RWE Supply & Trading GmbH
Location: Berlin, Tempelhof