New corporate strategy communicated through dialogue at all levels of management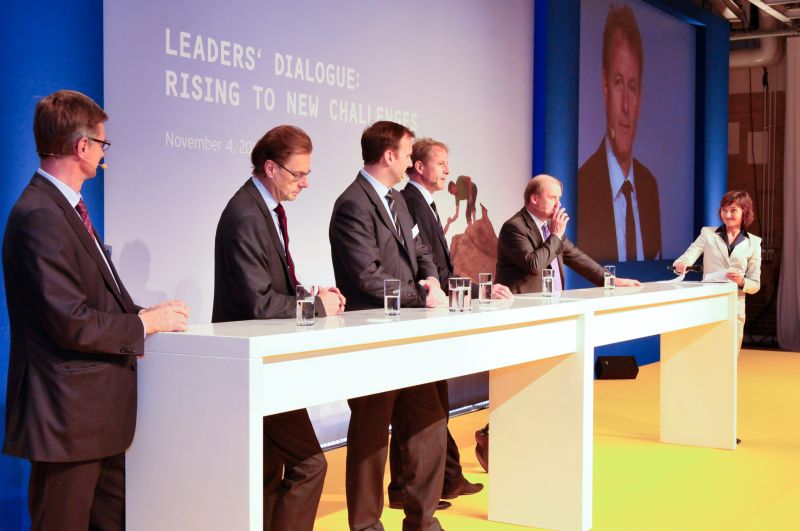 Our challenge

After a leadership change at one of Europe's biggest energy suppliers, based in Berlin, a meeting was called for 350 executives from across Europe and from all of the company's divisions. Here, the new management team would introduce themselves and the company's new strategic plan. The meeting aimed to impart information, encourage dialogue, and define common goals for operations. The inspiranten team were asked to find alternatives to the one-way lecture format, creating solutions which would cultivate dialogue and allow everyone involved to actively shape the meeting's design.
Our solution

For a location, we chose a venue at Gleisdreieck in Berlin: this offered enough space for meetings of the entire group of 350 but also for a variety of workshop formats designed for active forms of discussion.
The initial rounds of dialogue were introduced and moderated by the German television anchorwoman Monika Jones. Since active participation was crucial, we used our 'World Café' seminar method, placing groups within a relaxed atmosphere in order to come up with concrete working suggestions. Dividing into thirty-five groups, the executives met for three rounds of discussion, then presented their findings to the meeting as a whole.  
After the official workshop sessions, an evening event brought together all participants in a relaxed bar atmosphere, where dialogue continued on an informal basis. The entertainment line-up included magic shows and artists sketching rapid portraits, helping to contribute to a chilled-out occasion and many productive conversations.  
Our success

The cosy coffee-house atmosphere allowed for dialogue that was both informal and highly focused, devising specific solutions through intensive small-group work. The format obliged every participant to make an active contribution. The new company strategy, which had previously come across as a distant, top-down message, was communicated in concrete form, relevant to the everyday concerns of individual divisions and business units.
Client: Vattenfall Europe AG
Location: Station, Berlin
Type: Leadership dialogue