Christmas treats for clients show a company's sweet tooth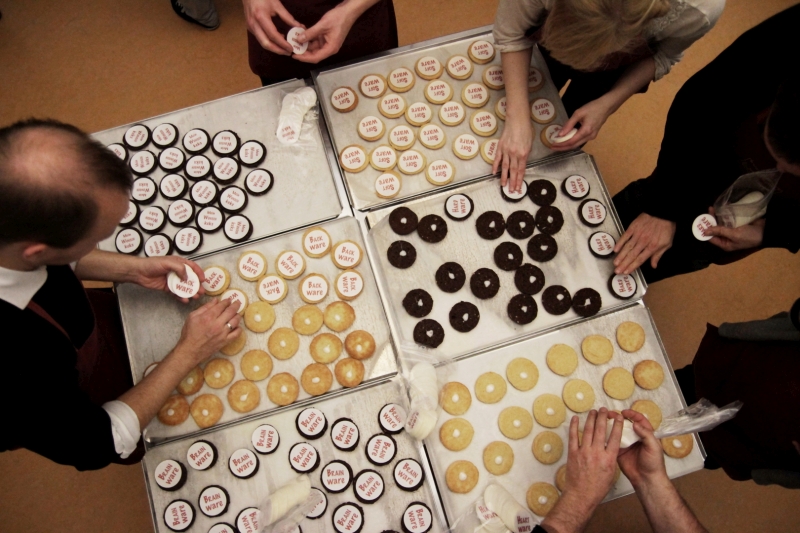 Our challenge

Whatever your goal, we'll get you there! For more than twenty years, AdvoService has been a dependable system partner for mid-sized law firms, offering secure, smooth delivery of every kind of computer-based legal task and service.
This year, AdvoService wanted to go further, offering a personal touch for clients, to go along with their own flawless technological solutions and customer service. The company felt its Christmas gifts should reflect its professional excellence, while emphasizing its human side. To achieve this, the inspiranten team developed an event based on playful teamwork, which would strengthen team sentiment while simultaneously creating unique gifts for clients. 
Our solution

In Berlin, the Charlotte Baking School is synonymous with baking excellence. Beate Schulz, its lead confectionary chef, has over ten years of experience with Lenôtre, an upscale confectioner based in the iconic KaDeWe department store. She has won numerous prizes for the originality and quality of her innovative baking.
At the school, AdvoService staff learned how to bake Christmas cookies to Schulz's exacting standards. Under her watchful eye, the team together produced several kilogrammes of baked goods, topped with wafers decorated with slogans related to AdvoService's work. The treats were sent to clients and friends of the company, including a description of the baking process. 
Our success

For AdvoService staff, the event was both a highly unusual Christmas celebration and an unorthodox team-building exercise. The company's lucky clients received delicious Christmas cookies, but also learned more about the human side of a company that was thoughtful enough to produce gifts especially for them.
Location: Berlin, Backschule Charlotte