Leo Wundergut & the Capital Dance Orchestra on tour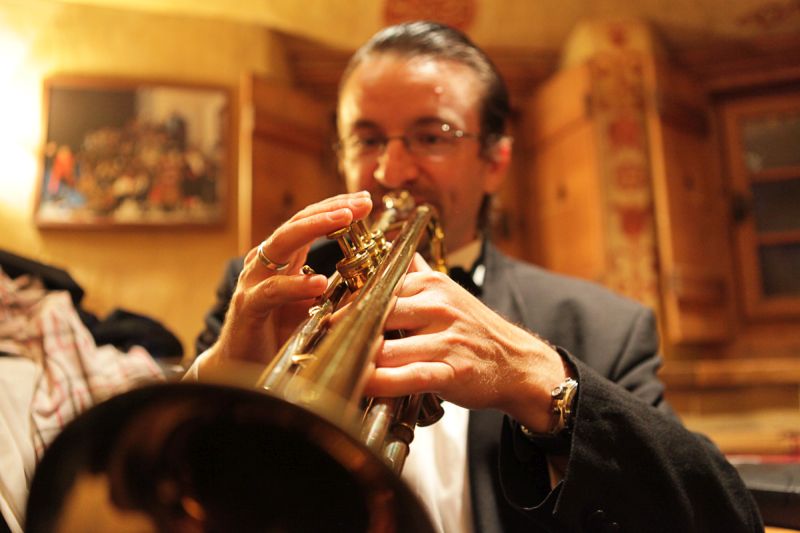 Background
Working with his fellow tenors Ernst Müller-Thurgau and Benedetto Rubini and the Capital Dance Orchestra Berlin, the satirical singer Leo Wundergut created an entertaining stage show, which premiered in Zurich before moving on to St. Moritz and Interlaken.
Our challenge

inspiranten were asked to manage the production, planning and organization of the show's Swiss appearances. We were responsible for a total of sixteen musicians and all their equipment, arranging transportation, accommodation and catering. In addition, we supervised the staging at every location, working behind the scenes to ensure every show went down a storm.
Production details

The show's unique musical dialogue resulted from an unusual clash – a peaceful one! – of German and Swiss musical cultures. Specifically, it combined satire, the outstanding voices of the three tenors, and the rich sounds of a Berlin big band. The ensemble also performed material from around the world, including Latin America (Guantanamera), Turkey (Hadi Bekalim) and the Arab world (Margritli performed in Arabic). The closing sequence saw the musicians deriving harmony and consensus from international difference, inspired by a shared love of song. Music really has no frontiers!
Our success

The highly talented musicians could relax and focus on their own performance, knowing that logistics and organisation were in our capable hands. Every concert ran smoothly, and audiences loved the unusual German-Swiss musical collaboration.
Client: Swiss Premium Entertainment GmbH
Location: St. Moritz and Interlaken, Switzerland