James Bond meets Metallica: a birthday party for a special company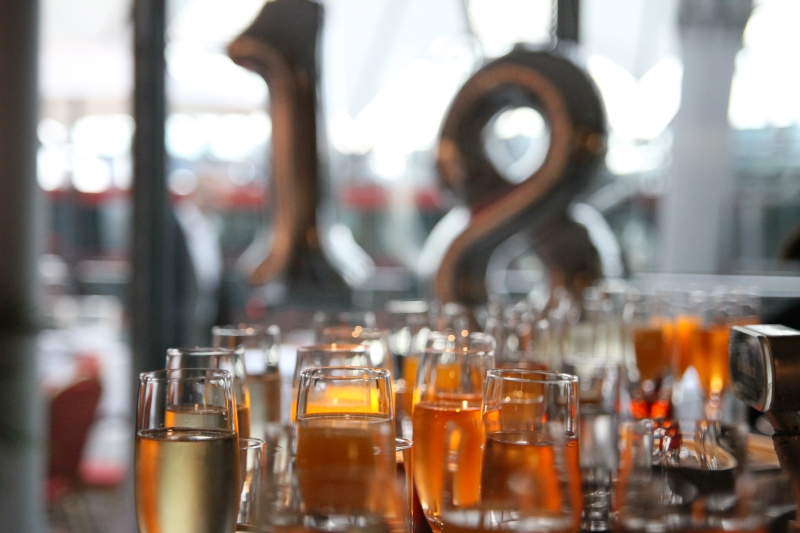 Our challenge

AdvoService, the leading provider of legal software, was turning eighteen! The company asked the inspiranten team to conceive and organize a really special birthday party, with invitations going out to five hundred of its most important partners and clients.
Eighteen years of company success, eighteen years building a reputation for reliability and customer service: this called for an appropriate celebration. The inspiranten team set about finding a classic venue in Berlin – the company's home city – and designing a memorable programme of Berlin-flavoured events.
Our solution

Our choice of venue was classic Berlin: PS-ZWO is located on the ninth floor of a building also housing the Film Museum, forming part of the city's iconic Sony Center. The setting offered both Berlin flair and plenty of space for a large-scale celebration. From the quiet of the balconies, high above street level, guests enjoyed stunning views down to the busy Sony Center below.
The inspiranten team transformed PS-ZWO for the evening: Welcome to Casino Royale! Guests, friends and clients of the company enjoyed an entertaining casino evening, punctuated with many surprises. At the tables, guests could play blackjack, poker, craps and roulette. The proceeds went to a great cause, with almost €3000 raised for a Berlin children's charity, Berliner Verein Kinderlächeln e.V.
Musical entertainment was provided by Berlin's own Quartett Jazziki, whose jazz and swing numbers perfectly suited the glamorous casino atmosphere. A close-up magician delighted guests with complex, baffling tricks, while a portrait artist produced sketches on the spot. Sparklers gave a finishing touch to the classy atmosphere. Like any good birthday party, the highpoint was the arrival of the cake, presented by a model body-painted with the company's logo. A prize-giving ceremony, overseen by an entertaining moderator, saw prizes awarded to AdvoServices clients, with categories including the most loyal, most critical and even the youngest client.
Heavy Metal meets Jazz
One of the evening's surprises was unplanned, the result of pure serendipity. It happened that the Sony Center was hosting another event that evening: the star-studded premiere of the new Metallica 3D film. From the balconies above, party guests could watch the stars arrive by limousine, making a lovely link between the glamour downstairs and the casino among the rooftops.
Our success
The corporate birthday party, held on a delightful summer evening, provided an amusing, surprising evening for all. Guests enjoyed close-up views of Berlin history, film history and, of course, casino culture. They were impressed with the view from PS-ZWO down to the busy comings and goings at the Sony Center. Proceeds went to a great cause. AdvoService's birthday guests enjoyed a highly sociable evening, and an entertaining night out in the heart of Berlin.
Location: Berlin, Sony Center
Type: Company anniversary party